This blog will make finding the right cloud-based business management software easier for you!
In this blog, you will get a detailed NetSuite vs SAP B1 comparison, including:
What is an ERP (Enterprise Resource Planning) solution
Why you should hire an ERP partner
What is the difference between NetSuite and SAP Business One
What to consider while choosing an ERP software
Which is better, NetSuite or SAP B1
Lots more
After reading this blog, you will know how to find the best ERP solution to get the most out of your investment.
Without any delay, let's dive in.
If you are reading this blog, it means two things: 
You heard about ERP (Enterprise Resource Planning) software solutions, and now you want to know if it is just a buzzword or a real deal

 

You already know about the benefits of

a

true cloud ERP software and

know

now

you want to know which one is the best for you

 
That's great! Because it indicates you have come one step closer to changing your business scenario for good!  
According to a report, most companies agree that ERP implementation has improved their business processes.
That's why more and more companies are implementing cloud ERP. 
Unlike before, the adoption of ERP is not just limited to manufacturing organizations. Now businesses from different verticals, public sector, professional services, and distribution companies, are switching to end-to-end advanced business management solutions. 
And this trend doesn't seem to stop anytime soon. 
In fact, the total market size of the ERP business is expected to expand to $49.5 billion in 2025. So, if you think ERP implementation is just another cherished buzzword of the IT world, you should think otherwise. 
But what are ERP solutions, and why are they becoming so popular? Read on to find the answers to your bubbling questions. 
What is an ERP Solution?
Recall all those times when: 
Your important data got lost due to mismanagement

 

Tracking of invoices became a headache

 

Lack of insight into project progress ruined operations

 

Your costs increased, and you lost money due to inaccurate financial reports

 
All these situations are painful and could be a major setback for your business. 
Your pain can become your competitors' gain. In today's changed business landscape, slow and steady doesn't win the race. For owning a successful business, you have to run like a rabbit – fast, very fast – but make sure to stay focused and don't sleep along the way. 
That's where an ERP solution comes to your rescue.  
An ERP (Enterprise Resource Planning) software means: 
An all-in-one cloud-based business management platform that helps organizations run their business operations smoothly, manage customer relationships, and streamline processes while saving extra cost and time.
It means an ERP system has three main features: 
It's an integrated platform.

 

It's cloud-based.

 

It offers

a palette of functionality for business management.
The last point takes us to our next point: 
What is the importance of ERP in business?

 

How can ERP help you keep up with the competition?

 

Why is ERP software important?

 
Why Do You Need an ERP Software Company?
If you are a business enterprise looking for a solution to… 
Manage and organize the data

 

Streamline business operations and processes

 

Integrate business operations into one platform

 

Access real-time information and insight into progress

 

Give better user experience by easier reporting and

process
…then it is time for you to give up old, legacy processes and let the ERP system help you transform your business.
Yes, you heard it right! 
Incorporating an ERP system into your business fabric can provide these amazing benefits. In fact, it taps into almost all major business management and operation areas. 
Here are main ERP modules that you will likely leverage: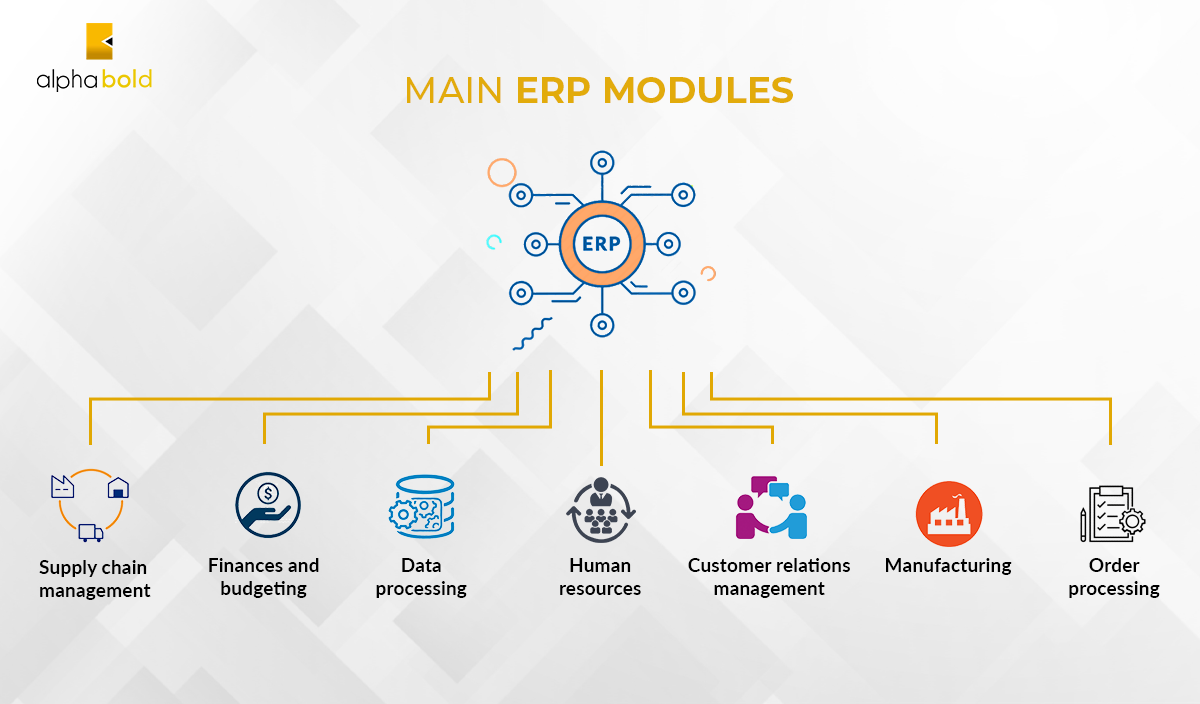 Supply chain management

 

Finances and budgeting

 

Data processing

 

Human resources

 

Customer relations management

 

Manufacturing

 

Order processing

 
So, an ERP software company can take you closer to all these business benefits and a world where the automation of most processes becomes easier. 
That's great! But with so many options available in the market, do all ERP software solutions provide the same experience? 
Not really! 
In a 2019 survey, 67% of manufacturers and distributors agreed that their ERP implementation was successful. Why did the other 33% of implementations fail? 
Because the selection of the right ERP solution matters.  
Here are a few popular ERP solution providers among businesses: 
But it is hard for businesses to analyze all options. In addition, to successfully implement the right ERP system, companies need to pick the best implementation partner to make it a success. Like a good implementation partner we have done the hard work for you. We have picked two of the most popular ERP solutions and matched them up. 
NetSuite and SAP Business One make a few of the most popular ERP software among businesses. 
Both ERP solutions are: 
Market leaders

 

All-in-one ERP solutions

 

Having various business management features

 

Having

tens of thousands of customers

 
So, how to decide what is better, SAP Business One or NetSuite ERP? 
Let's get a closer look.
What is the

D

ifference

B

etween NetSuite and SAP Business One?

 

Here are the basic differences between NetSuite ERP vs. SAP Business One features and functionalit:
1: Deployment
Software deployment can be defined as all the processes, activities, and methods (manual or automated) used to make software available and accessible to the end-users. ERP deployment method defines how, where, and when you can use your selected ERP system. 
Both NetSuite and SAP B1 ERP try to help users easily access and use the system. 
However, there are still a few differences between the two: 
NetSuite is a true cloud system. Moreover, NetSuite's mobile app for IOS and Android gives users the ability to process transactions and view reports in real-time.
SAP Business One was initially created for on-premise use. However, now it can also be deployed to the cloud and the hybrid configuration (cloud and on-prem.) is also possible.
You can access SAP through mobile devices. However, unlike NetSuite, SAP relies on third–party solutions for mobile access.
2:

Customization
Sometimes, native ERP functionality does not satisfy all business needs. It is important for the platform to be extensible to meet specific industry or usability requirements in such situations. 
SAP B1 and NetSuite ERP can both be customized, but there is a significant difference between the two platforms as to how it is achieved.
Customization of the NetSuite system is simple because mostly, they require less coding. The system is easily configurable and scalable. 
Furthermore, abundant NetSuite add-ons further extend the system by incorporating non-native functionality to fulfill specific business needs, like edit, change, and customize records, tables, forms, etc. 
SAP's dashboard makes it one of the happening ERP software as users can tailor it according to their needs and see only those tables and fields that are relevant to their jobs.
However, it is relatively difficult to adjust SAP B1's native functionality as it requires specialized knowledge of several APIs. Moreover, upgrades need significant support, and they can be costly and difficult to execute.
3:

Integration
Businesses often need to connect and bridge several business solutions to avoid manual data entry and improve efficiency. This is achieved through system integrations. 
Bother ERP solutions have APIs that allow these systems to communicate to other systems directly or through middleware solutions. 
But is NetSuite integration the same as SAP B1 integration? No! 
Here is how these two systems differ in terms of integrations: 
It can integrate with many other third-party solutions.  
However, NetSuite integration with other applications requires custom code due to the incorporation of solutions by third parties. It can have three drawbacks: 
It is tedious.

 

It requires time.

 

It can increase costs.

 
But what makes NetSuite integration the best is its various add-on options, and it contains API and Integration Management System that makes integration with other source systems compatible. Integration through APIs is becoming a standard as it is impossible to have pre-built integrations for all systems out there.  
SAP integrates with SAP certified solutions that eliminates the need for custom code. You can easily integrate production, sales, invoicing, manufacturing, scheduling, and shipping processes with other applications with ease. However, it has fewer add-ons than NetSuite and doesn't have an open architecture for connection. 
4: Analytics and Reporting
 Automated analytics and reporting are one of the most important insights for any business to make an informed decision and make future plans. While other ERP solutions collect data without giving any meaningful KPIs in return, NetSuite ERP and SAP ERP are different. 
You can get detailed reporting and analytics using SAP Business One and NetSuite. 
NetSuite's SuiteAnalytics offers user-friendly reporting tools that users can easily use to create real-time reports and get insights into their processes and operations. 
SAP Analytics tool, which is NetSuite's SuiteAnalytics counterpart, provides the best real-time reporting, automatic calculations, and tracking. Unlike NetSuite, SAP ERP integrates with HANA, and comes with an Excel tool for data analysis. 
However, many SAP Analytics features require separate licenses that can be costly for small businesses. 
5: Licensing
Licensing of NetSuite and SAP Business One is quite different. Here is how you can get a license for both these solutions:
NetSuite software comes in multiple editions, including mid-market, standard, premium, etc. You can purchase it directly from NetSuite or through a solution provider/partner, like AlphaBOLD. Choosing the right license can sometimes be complex. 
Unlike NetSuite ERP, you can get the SAP Business One license through authorized resellers only. 
6: System Updates
 Technology is in a state of a stir – so are ERP solutions. So, system upgrades are inevitable. But system updates can have cons as well as pros. 
Here is a quick look at SAP Business One and NetSuite ERP system updates:
NetSuite system updates are automatic as they are applied to a multi-tenant environment. It means whenever NetSuite deploys an upgrade, the systems of all customers update simultaneously. 
Furthermore, unlike SAP B1, upgrades rarely break customizations in NetSuite as they do not disrupt the layer of custom code and configurations. 
 SAP Business One ERP upgrades don't occur in multi-tenantcy environments, which means you can upgrade the system whenever you want. Although this makes the system flexible and (arguably) provides added security, system upgrades must be managed carefully with specialized teams to avoid breaking the custom code and workflows. 
Conclusion
When it comes to comparing NetSuite to SAP B1, it is important to note that both solutions have their pros and cons.  
If you are looking for a streamlined solution with well-defined MRP and production processes that suit your long-term business needs, SAP B1 may be the right fit. However, if your business aims to be nimble and requires software that can morph and adapt to the ever-changing business landscape, NetSuite may be the right product for you. 
So, whether you go with NetSuite ERP or SAP B1 ERP, make sure you have done your research, know your business needs, and future plans. 
We hope this guide helped you understand not only the differences between the two systems but also how to reflect on your future business software needs. 
Did we miss anything? Please share your thoughts or experiences in the comments section below. Happy ERP-ing!